Call for Participants:
Post-Vote, Now What?: Participatory Prompts for Democracy
RISD students, faculty, staff and alumni are invited to lend their voices to
Post-Vote, Now What?
, a collective reflection on democracy, community, dialogue and where we go from here.
Post-Vote, Now What?
is both a storefront exhibition (at RISD's
Color Lab
, 30 North Main St.) and an online publication (at
volume-1.org
, RISD's student-led publishing platform). It asks us to respond (by Decem ber 1) to one (or more) of four prompts in words and/or images:
—How do you define/understand/experience democracy?
—What is most important for you to say right now?
—How are you fostering change, conversation and unity?
—Now what?
Multiple responses over the project's duration are welcome; a conversation may emerge; some responses may even become prompts themselves.
Visit this

Google form

, where you will download a PDF on which to share your response to the prompts. Please follow the instructions there. Questions: postvote@risd.edu
Important Dates

November 4- December 1: submissions accepted via the Google Form


Please stay tuned for installation and exhibition dates.


Color Served Daily
The RISD Color Lab is an open space where visitors can come to study, work, think, play, and learn about the one aspect of art and design that draws us all together : COLOR
︎
︎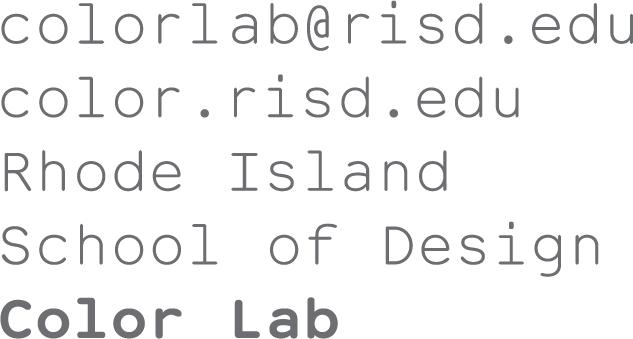 Fall Semester 2020
The Color Lab is closed to visitors for Fall 2020 due to COVID-19. Materials may be requested through the Visual + Materials Resource Center at Fleet Library.
Visit The Color Lab
Please see above.
401 709-5934 | vmrc@risd.edu or
colorlab@risd.edu