Visit The Color Lab

Location
RISD Design Center
30 North Main Street
Providence, RI 02903
Spring Semester Hours
Wednesday - Friday, 12 - 8pm
Classes are held in the Color Lab on Mondays, Tuesdays, and Thursdays during the spring 2020 semester. Check the
calendar
for other scheduled events.
Contact
colorlab@risd.edu
Color Served Daily
The RISD Color Lab is an open space where visitors can come to study, work, think, play, and learn about the one aspect of art and design that draws us all together : COLOR
︎
︎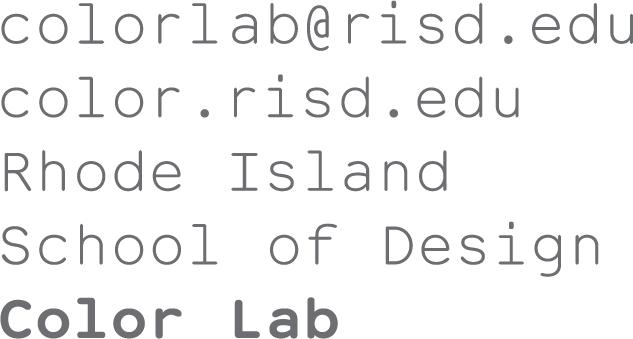 Spring 2020 Hours
Wednesday – Friday, 12 – 8pm
or by appointment.
Visit The Color Lab
Please
contact us
to schedule classes, visits, lectures, or study sessions in the lab.
colorlab@risd.edu