Faculty Research Grants



The RISD Color Lab awards two full-time faculty members a course release to conduct research and color-related inquiry in the Color Lab space every academic year. This opportunity also includes up to $2000 in funding for each faculty member to use for material and equipment needs that will aid in the execution of their research projects while contributing to the physical resources of the lab.

Each research project culminates in a joint exhibition that takes place in the Color Lab at the conclusion of the academic year. At this time, the RISD community is invited to come and experience what the faculty fellows have contributed to the study of color.
Important Dates

May 7–28, 2020
2019–20 Faculty Research Grant Projects by Odette England (Photography/EFS) and Daniel Lefcourt (EFS).

Opening Reception on May 7, 2020 @ 6:30pm




Coloring Our Time
2019–2020 Faculty Grant Project by Odette England
The project, led by faculty member Odette England, started with this question: As a global arts and design community, how will RISD see color in 2020?
Read more about the project
here
.
Color Served Daily
The RISD Color Lab is an open space where visitors can come to study, work, think, play, and learn about the one aspect of art and design that draws us all together : COLOR
︎
︎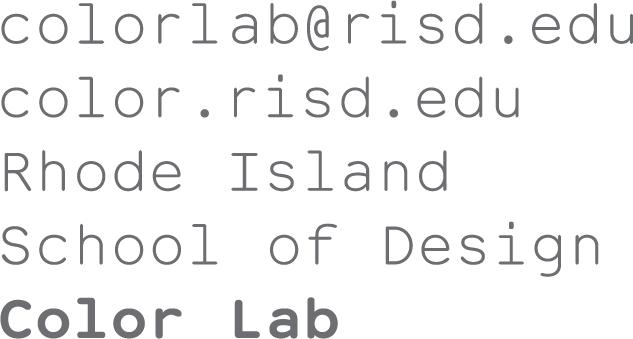 Spring 2020 Hours
Wednesday – Friday, 12 – 8pm
or by appointment.
Visit The Color Lab
Please
contact us
to schedule classes, visits, lectures, or study sessions in the lab.
colorlab@risd.edu