Student Curated Exhibition

Now accepting proposals for the spring semester Student Curated Exhibition!
Who :
Open to all RISD undergraduate and graduate students
What :
Color-themed, student-curated exhibition
When :
Proposals due March 9, 2020.
Where :
The new RISD Color Lab, Design Center first floor
Each year, all undergraduate and graduate students in any major are invited to submit proposals for a group exhibition to take place in the store-front gallery space of the Color Lab. Proposals are reviewed by the Color Lab Advisory Group, which includes representatives from every area of the institution, including members of the student body. Once the proposal for an exhibition is approved, the student curator(s) work with an oversight team to design the exhibition, curate the work, physically install the show, and plan advertising for the opening reception.
All proposals will need to demonstrate a clear involvement with color and its study; proposals that deal with color inquiry in a peripheral manner, will not be considered.
Please submit your proposal HERE.
You will be redirected to a Google Form and your RISD email will be recorded with your entry. Before submitting, be prepared with the following materials:
A working title for the exhibition.
A written proposal consisting of 1-2 paragraphs, 500 words or less (submissions longer than 500 words will not be considered).
Three sample images of potential work to be included in the exhibition.
Important Dates

February 13
Call for proposals

March 9
Proposals due

March 12
Students notified of accepted proposal

April 21-22
Installation

April 23-May 5
Show opens

May 6-7
Uninstallation

Color Served Daily
The RISD Color Lab is an open space where visitors can come to study, work, think, play, and learn about the one aspect of art and design that draws us all together : COLOR
︎
︎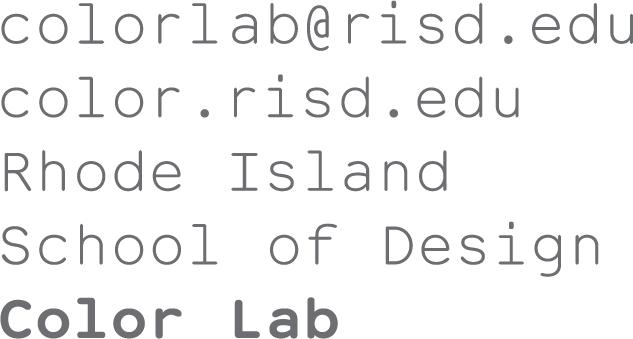 Spring 2020 Hours
Wednesday – Friday, 12 – 8pm
or by appointment.
Visit The Color Lab
Please
contact us
to schedule classes, visits, lectures, or study sessions in the lab.
colorlab@risd.edu