Visit The Space


All members of the RISD community are welcome to visit the Color Lab during open hours. We have student monitors on-site who will greet you and help direct you to the various color resources we offer.

When you enter the Color Lab, our main room and workspace houses our material collections and our book library. You can see a full listing of our resources here. Primarily, the main room is a work area with work tables and chairs. Students are invited to use this space along with our resources to work on projects that will benefit from a greater understanding of color.

Our store front area is our exhibition space where you can view our current color-centric exhibition. This space also houses our 300+ pigment collection, our bluetooth-enabled color tunable lighting suite, and our permanent 'draw-down' exhibition donated by Golden Artist Colors. This rotating collection features hand-pulled test cards in a variety of acrylic paints and mediums from the paint technicians that work on the floor of Golden's headquarters in New Berlin, New York.

Come to the Color Lab to work, study, and make - but above all, come to be inspired by all the things color can do.

Please note: Classes are held in the Color Lab on Mondays, Tuesdays, and Thursdays during the 2020 spring semester. Check the calendar for other scheduled events.

Color Served Daily
The RISD Color Lab is an open space where visitors can come to study, work, think, play, and learn about the one aspect of art and design that draws us all together : COLOR
︎
︎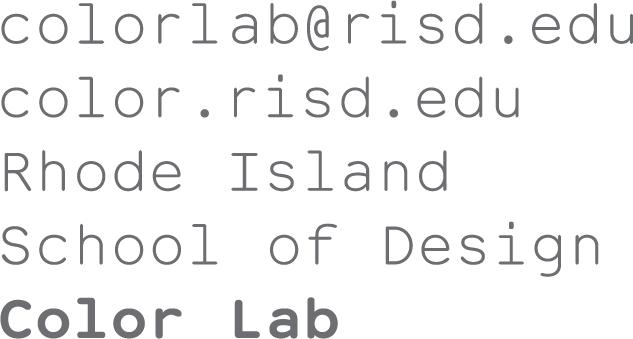 Fall Semester 2020
The Color Lab is closed to visitors for Fall 2020 due to COVID-19. Materials may be requested through the Visual + Materials Resource Center at Fleet Library.
Visit The Color Lab
Please see above.
401 709-5934 | vmrc@risd.edu or
colorlab@risd.edu