The RISD Color Lab is an open space where visitors can come to study, work, think, play, and learn about the one aspect of art and design that draws us all together : COLOR



Upcoming Events


March 5–30, 2020
Exhibition: unoriginal palette: color citation by clearer means
An Installation by Andy Law (Industrial Design)
Opening Reception March 5 @ 6:30pm


April 2, 2020 @ 6:30pm
Lecture: Pushing The Pink
Lisa Morgan (Head of Apparel Design)


April 23–May 5, 2020
Exhibition: Student Curated Exhibition
Now accepting proposals. Apply HERE
Opening Reception April 23 @ 6:30pm


May 7–28, 2020
2019–20 Faculty Research Grant Projects
Odette England (Photography/EFS) & Daniel Lefcourt (EFS)
Opening Reception May 7 @ 6:30pm


Faculty Research Grants


2019–20 Faculty Research Grant Projects by Odette England (Photography/EFS) and Daniel Lefcourt (EFS)
LEARN MORE

Resources In The Lab


Our library of resources is contantly growing. Please visit regularly to see what's new.


Over 300 common and rare dry pigments

Over 50 books covering a wide breadth of topics related to color study

A unique collection of 150 historic textile dyes and colorants from the American Textile History Museum

A collection of rare indigo cakes produced in the late 19th century

A collection of laboratory glassware and an induction hot plate that can be used to mix and experiment with a variety of artist's materials

A complete collection of professional reference fan decks and swatch binders containing architectural coating offerings from Benjamin Moore

A collection of professional sample boards for acrylic paints and mediums from Golden Artist Colors

A Munsell 3D "Color Tree" and accompanying "Book of Color" models for visualizing color space

An offering of promotional brochures featuring design trends and coating specifications from Benjamin Moore

A collection of designer's reference fan decks and swatch binders from Pantone, including CMYK coated and uncoated, metallic, pastel and neon, extended gamut, and others

A 3D swatch library of the "Pantone Plastics Color System"

A Sony 55 inch LCD display with Apple TV

Easels, drawing horses, and work tables for student use

A changing inventory of informational posters and signage compiled and designed by RISD staff that feature the ideas, concepts, and color study methods of prominent colorists such as Albers, Munsell, and Itten
Color Served Daily
The RISD Color Lab is an open space where visitors can come to study, work, think, play, and learn about the one aspect of art and design that draws us all together : COLOR
︎
︎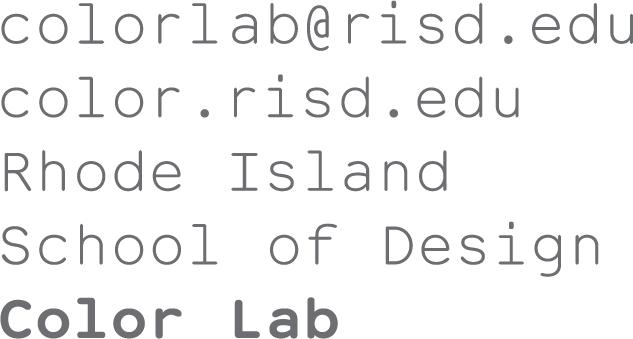 Fall Semester 2020
The Color Lab is closed to visitors for Fall 2020 due to COVID-19. Materials may be requested through the Visual + Materials Resource Center at Fleet Library.
Visit The Color Lab
Please see above.
401 709-5934 | vmrc@risd.edu or
colorlab@risd.edu